For many organizations, the key to success lies in maintaining the efficiency and performance of their Jira instances. In this context, tools like Doctor for Jira and Doctor Pro for Jira come into play, helping monitor and optimize Jira instances. In this article, we will analyze the differences between these two apps to assist you in making the right choice that best suits your needs and expectations in Jira management.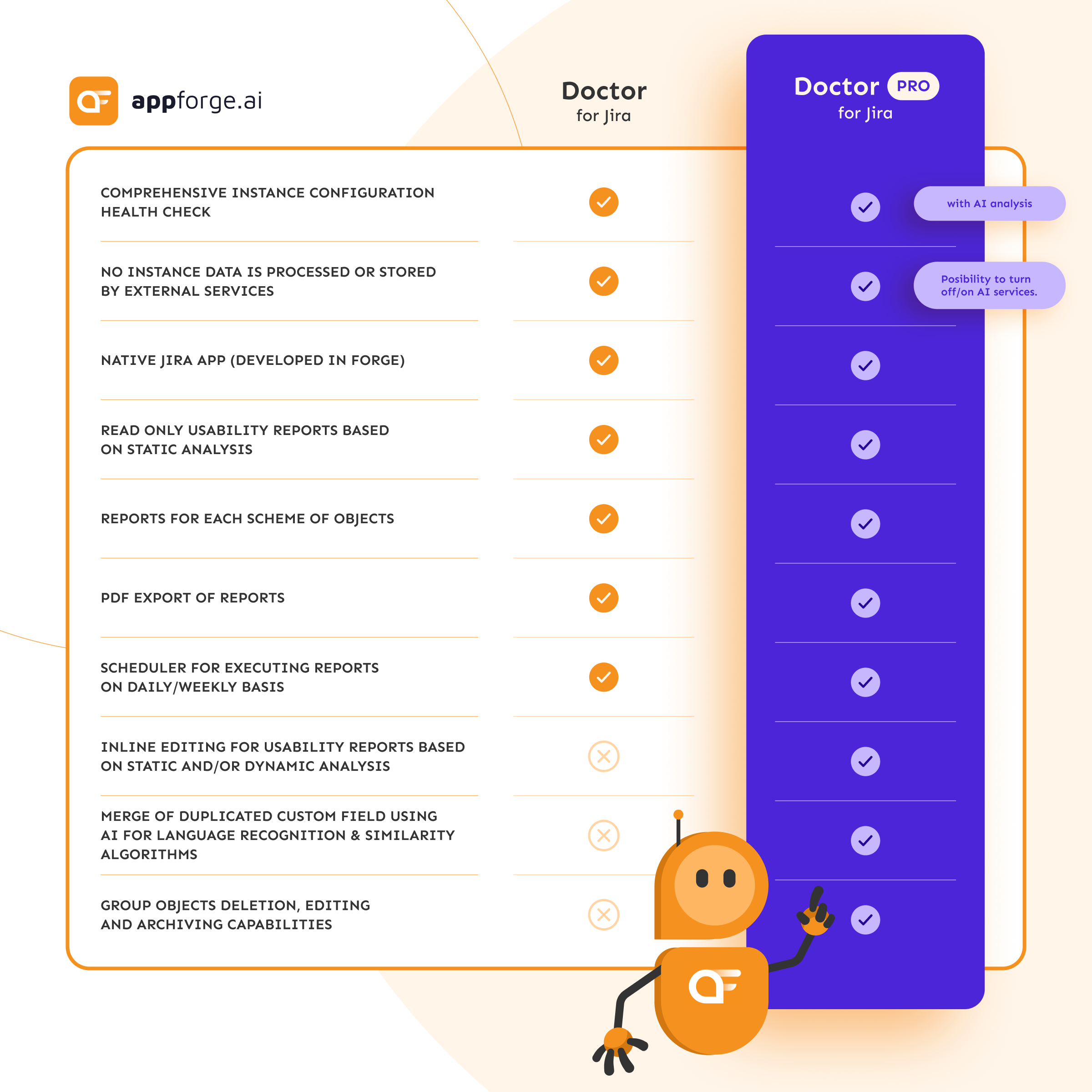 1. Health check
Doctor for Jira offers a comprehensive instance configuration health check. It focuses on ensuring that your Jira instance operates optimally by conducting in-depth tests to check if the Jira configuration complies with recommended practices and does not pose potential issues.
Doctor Pro for Jira stands out by utilizing artificial intelligence (AI) analysis for an even more advanced assessment of the configuration. This means that Doctor Pro for Jira can detect subtle problems and potential improvements that might elude traditional tools.
2. Forge
Both apps are native Jira applications, developed in Forge, ensuring their integration with the Jira environment.
3. Report generation
Both apps allow you to generate reports for various categories of objects in your Jira instance, such as custom fields, issue types, and workflow schemes, with recommendations and scores.
4. Exporting reports to PDF
Both Doctor for Jira and Doctor Pro for Jira enable you to export reports in PDF format, facilitating easy sharing and archiving of results.
5. Report execution scheduling
Both apps provide the option to schedule report execution, allowing for automated generation and delivery of results at specified intervals, such as daily or weekly.
6. User data control
Within Doctor for Jira, data is neither processed nor stored. In the case of Doctor Pro for Jira, data processing is conducted using artificial intelligence, and it can be deactivated at any time. No data is stored.
7. Report editing and AI analysis
Doctor Pro for Jira stands out by offering the ability to edit usability reports generated from both static and dynamic analyses. This empowers users to perform in-line data editing directly within the reports, providing more advanced functionality. Doctor for Jira, on the other hand, offers users the capability only to view reports.
8. Merging duplicate fields and object management
Doctor Pro for Jira offers advanced features, such as merging duplicate custom fields using language analysis and similarity algorithms. Furthermore, the tool enables group actions, including object deletion, editing, and archiving in your Jira instance, simplifying data governance.
Conclusion
Doctor Pro for Jira provides more advanced capabilities with AI analysis and offers more extensive options for report editing and object management within the Jira instance.
On the other hand, Doctor for Jira is more limited in terms of functionality and does not include advanced AI features.
Whether you opt for a more basic approach or require advanced AI-driven analysis, both tools can help you maintain the efficiency and performance of your Jira instance.